Applying to High School in New York City?
This is an exciting time for middle school students and their parents alike.  It is time to make decisions about which schools to apply to.  Your choices will determine the education you receive and the neighborhood you will commute to daily for the next 4 years.  For most students, the New York City high school admissions process is one of the most consequential and competitive events of their young lives.
Nevertheless, many students and parents struggle to navigate the application process.  Material provided by the City of New York is not organized in a user friendly way.  Further, substantial guidance on how best to complete the application paperwork can be difficult to obtain.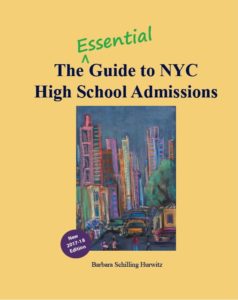 NYC High School Applications Guide
In a revolutionary new approach to this often overwhelming process, Language Arts teacher and independent author Barbara Schilling Hurwitz has crafted The Essential Guide to NYC High School Admissions.  This groundbreaking manual walks students through the best practices and dangerous pitfalls of the New York City high school application.
Click here to order your copy the 2017 – 2018 academic year edition today.
This newly updated edition addresses current and progressive trends on diversity and social justice in academia.